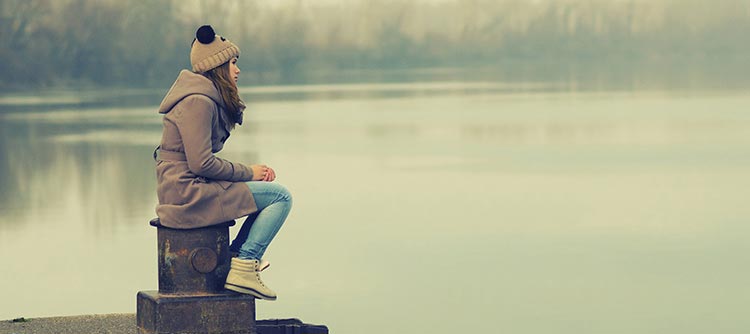 I Feel So Lonely
Do you ever feel like everyone has someone except you? While others spend time with someone special, maybe you feel lonely and left out. No boyfriend or girlfriend. Maybe your spouse doesn't pay attention to you, or your loved ones live far away. You don't have many friends, they're too far away.
Do you think to yourself, "Will I be lonely forever?" or "Why am I always alone?" Maybe these feelings have been building for a long time and you're thinking, "I feel so … lonely."
Many people struggle with loneliness because they live by themselves or spend most of the day alone. Others are surrounded by people all day, yet feel the most lonely in crowds. In both cases, loneliness is caused by a lack of connection that comes through relationships.
We all want to love and be loved—and there's nothing wrong with that. In fact, the ability to love comes from God Himself—a compassionate God who cares about you, knows your heart's deep longing for love and can fulfill that desire. The Bible explains that God is love (1 John 4:16), and since He created you, God transfers that love to us. Put another way, "We love because He first loved us" (1 John 4:19).
But what if there's no one in your life to give or receive the kind of love you're longing for? What if the person you thought was the perfect match to take away your loneliness isn't so perfect after all?
Finding someone to meet all our needs is futile because no human can fully satisfy our desire for a meaningful connection. Our desire is for something deeper—something that reaches our very souls.
Only the depth of God's love can fill that empty space in our hearts. We were created to be in relationship with Him, and without a relationship, we're incomplete and, ultimately, we're lonely.
God loves us, and He has given us the capacity to love Him back. But that part is up to you.
Are you ready to push your loneliness aside and experience the unconditional, unmatchable love of a perfect God who knows everything about you?
Start a lasting, fulfilling relationship with God today.
Step 1 – God loves you and has a plan for you!
The Bible says, "God so loved the world that He gave His one and only Son, [Jesus Christ], that whoever believes in Him shall not perish, but have eternal life" (John 3:16)
.
Jesus said, "I came that they may have life and have it abundantly"—a complete life full of purpose (John 10:10)
.
But here's the problem:
Step 2 – People are sinful and separated from God.
We have all done, thought or said bad things, which the Bible calls "sin." The Bible says, "All have sinned and fall short of the glory of God" (Romans 3:23). The result of sin is death, spiritual separation from God (Romans 6:23). The good news?
Step 3 – God sent His Son to die for your sins!
Jesus died in our place so we could have a relationship with God and be with Him forever. "God demonstrates His own love toward us, in that while we were yet sinners, Christ died for us" (Romans 5:8). But it didn't end with His death on the cross. He rose again and still lives! "Christ died for our sins. … He was buried. … He was raised on the third day, according to the Scriptures" (1 Corinthians 15:3-4). Jesus is the only way to God. Jesus said, "I am the way, and the truth, and the life; no one comes to the Father, but through Me" (John 14:6).
Step 4 – Would you like to receive God's forgiveness?
We can't earn salvation; we are saved by God's grace when we have faith in His Son, Jesus Christ. All you have to do is believe you are a sinner, that Christ died for your sins, and ask His forgiveness. Then turn from your sins—that's called repentance. Jesus Christ knows you and loves you. What matters to Him is the attitude of your heart, your honesty. We suggest praying the following prayer to accept Christ as your Savior:
"Dear God, I know I'm a sinner, and I ask for your forgiveness. I believe Jesus Christ is Your Son. I believe that He died for my sin and that you raised Him to life. I want to trust Him as my Savior and follow Him as Lord, from this day forward. Guide my life and help me to do your will. I pray this in the name of Jesus. Amen."
Did you pray this prayer?