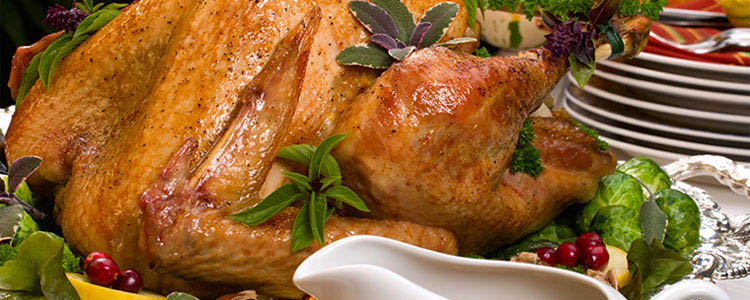 5 REASONS YOU DREAD THANKSGIVING—AND WHY YOU DON'T HAVE TO
It's that time of year again: Thanksgiving. Time for family, football and pumpkin pie. But what happens when the very thought of the holiday sends you running for the hills? When giving thanks gives you a headache? Here are 5 reasons you might dread Thanksgiving—then scroll down to see what you can do about it.
Family drama. This isn't one of those commercials where smiling families pass dinner rolls across a neatly adorned table. You're just trying to scarf down your food so you can get out of there.
All the work falls on you. You're the one carrying Lysol in one hand and a turkey baster in the other. (Just don't get the two mixed up.) You're in a tizzy by the time the doorbell rings.
Travel takes time and money. Maybe the family could come visit you for a change. OK, bad joke.
You're at work. Thanksgiving is just another day—maybe busier. Can't a person catch a break?
What do you have to be thankful for? It's been a tough year, and you don't feel like pretending to be happy. Even the word "Thanksgiving" leaves you grumbling over your mashed potatoes.
The good news: it doesn't have to be like this. Here are 5 tips for making Thanksgiving better this year.
Seeing family can be a good thing. It shows you care. Bless others by being a good listener and encourager. Reconnect with ones you don't see regularly.
Thanksgiving prep is no small task. Make a list of what you need to do and when. If you can bake or freeze anything ahead of time, do it. Ask family and friends to help you, and if that's a no go, opt for a smaller meal.
Traveling can be stressful. Set aside time to be alone and stick to it. Enjoy these moments of calm and ask God to keep you from getting upset if things don't go as planned.
Maybe you're stuck working on Thanksgiving, but you can still face the day with a positive attitude. Look for ways to uplift people around you. Tell co-workers what you appreciate about them, or bring in some homemade goodies.
Problems are real, and you don't have to pretend they aren't. But don't let problems block out everything else in your life. What can you be thankful for? Your health? Your family? Your home? How about small things you might take for granted? Make a list.
Here's one more challenge for you: this holiday, discover an even greater reason to be thankful. That reason is the freedom found in Jesus Christ. With Christ, we have hope and guidance, not just on Thanksgiving, but every day.
Let this be the greatest Thanksgiving ever by asking Christ into your life today.
Step 1 – God loves you and has a plan for you!
The Bible says, "God so loved the world that He gave His one and only Son, [Jesus Christ], that whoever believes in Him shall not perish, but have eternal life" (John 3:16). Jesus said, "I came that they may have life and have it abundantly"—a complete life full of purpose (John 10:10). But here's the problem:
Step 2 – People are sinful and separated from God.
We have all done, thought or said bad things, which the Bible calls "sin." The Bible says, "All have sinned and fall short of the glory of God" (Romans 3:23). The result of sin is death, spiritual separation from God (Romans 6:23). The good news?
Step 3 – God sent His Son to die for your sins!
Jesus died in our place so we could have a relationship with God and be with Him forever. "God demonstrates His own love toward us, in that while we were yet sinners, Christ died for us" (Romans 5:8). But it didn't end with His death on the cross. He rose again and still lives! "Christ died for our sins. … He was buried. … He was raised on the third day, according to the Scriptures" (1 Corinthians 15:3-4). Jesus is the only way to God. Jesus said, "I am the way, and the truth, and the life; no one comes to the Father, but through Me" (John 14:6).
Step 4 – Would you like to receive God's forgiveness?
We can't earn salvation; we are saved by God's grace when we have faith in His Son, Jesus Christ. All you have to do is believe you are a sinner, that Christ died for your sins, and ask His forgiveness. Then turn from your sins—that's called repentance. Jesus Christ knows you and loves you. What matters to Him is the attitude of your heart, your honesty. We suggest praying the following prayer to accept Christ as your Savior:
"Dear God, I know I'm a sinner, and I ask for your forgiveness. I believe Jesus Christ is Your Son. I believe that He died for my sin and that you raised Him to life. I want to trust Him as my Savior and follow Him as Lord, from this day forward. Guide my life and help me to do your will. I pray this in the name of Jesus. Amen."
Did you pray this prayer?