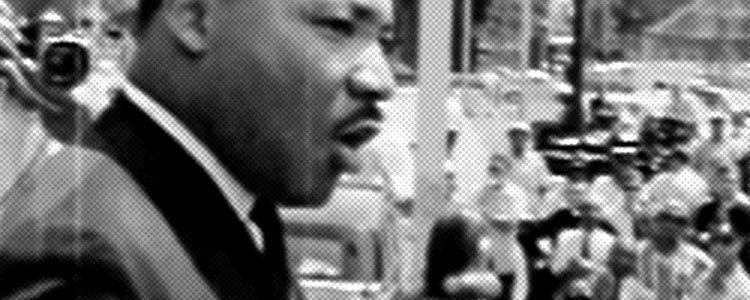 Where's the next Martin Luther King?
Martin Luther King Jr. Day is a time to look back at one of history's most prominent figures in the Civil Rights Movement. This young Baptist minister is remembered for his unwavering commitment to equality and ending racial prejudice.
Dr. King was a powerful voice for peaceful change, and you can be, too, by understanding the driving force behind his message.
Dr. King was an ordinary man who knew his purpose and where it came from. His call to love others and treat them with respect was motivated by his faith in Jesus Christ. "Love has within it a redemptive power," he said. "And there is a power there that eventually transforms individuals. … This is why Jesus says love."
In fact, the Bible tells us the greatest thing we can do is love God and love others (Mark 12:30-31). That gives us the power to break through barriers that still exist today—barriers like inequality and hate.
Jesus set the ultimate example for us by loving people unconditionally. He spent time with people from all backgrounds and transformed them from the inside out. He even died out of love for us, to bridge the gap between us and God so those who trust in Him can have a relationship with God and peace in their hearts.
Evangelist Billy Graham, who was a friend of Dr. King, said during the Civil Rights Movement: "Jesus was not a white man; He was not a black man. He came from that part of the world that touches Africa and Asia and Europe. Christianity is not a white man's religion, and don't let anybody ever tell you that it's white or black. Christ belongs to all people; He belongs to the whole world."
Jesus Christ is for you, too. He can give you peace and the ability to change the world we live in through His transforming love. Will you make Jesus part of your life today?
Step 1 – God loves you and has a plan for you!
The Bible says, "God so loved the world that He gave His one and only Son, [Jesus Christ], that whoever believes in Him shall not perish, but have eternal life" (John 3:16). Jesus said, "I came that they may have life and have it abundantly"—a complete life full of purpose (John 10:10). But here's the problem:
Step 2 – Man is sinful and separated from God.
We have all done, thought or said bad things, which the Bible calls "sin." The Bible says, "All have sinned and fall short of the glory of God" (Romans 3:23). The result of sin is death, spiritual separation from God (Romans 6:23). The good news?
Step 3 – God sent His Son to die for your sins!
Jesus died in our place so we could have a relationship with God and be with Him forever. "God demonstrates His own love toward us, in that while we were yet sinners, Christ died for us" (Romans 5:8). But it didn't end with His death on the cross. He rose again and still lives! "Christ died for our sins. … He was buried. … He was raised on the third day, according to the Scriptures" (1 Corinthians 15:3-4). Jesus is the only way to God. Jesus said, "I am the way, and the truth, and the life; no one comes to the Father, but through Me" (John 14:6).
Step 4 – Would you like to receive God's forgiveness?
We can't earn salvation; we are saved by God's grace when we have faith in His Son, Jesus Christ. All you have to do is believe you are a sinner, that Christ died for your sins, and ask His forgiveness. Then turn from your sins—that's called repentance. Jesus Christ knows you and loves you. What matters to Him is the attitude of your heart, your honesty. We suggest praying the following prayer to accept Christ as your Savior:
"Dear God,
I know I'm a sinner, and I ask for your forgiveness.
I believe Jesus Christ is Your Son. I believe that He died
for my sin and that you raised Him to life.
I want to trust Him as my Savior and follow Him as Lord,
from this day forward. Guide my life and help me to do your will.
I pray this in the name of Jesus. Amen."
Did you pray this prayer?