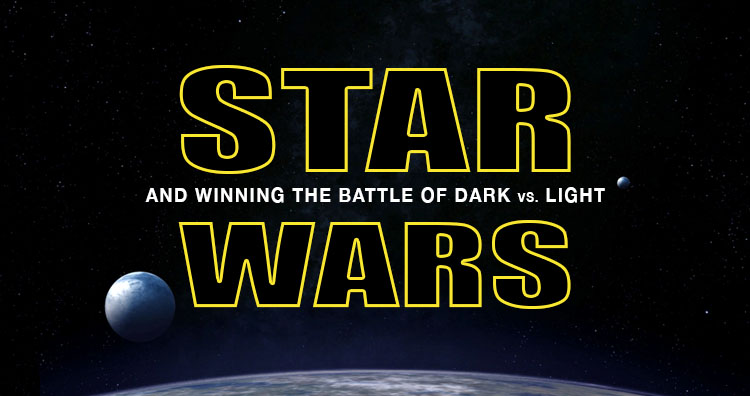 Star Wars and Winning the Battle of Dark vs. Light
May the Force be with you.
If you know nothing else about Star Wars, you probably know this popular phrase from the science fiction franchise. It means "good bye and good luck."
But die-hards know the Force is more complicated than a whimsical saying. This invisible power can go either way: dark or light. Anakin Skywalker, once a heroic Jedi Knight, turned to the dark side of the Force and became the infamous Darth Vader. His son, Luke, used the Force for good under the tutelage of Ben Obi-Wan Kenobi and defeated his dad's Galactic Empire.
The legend of the victorious Jedi Knight lingers in the new Star Wars: The Force Awakens. It's nothing more than a myth to newcomer character Rey, but adventurer Han Solo experienced it. "It's true," he says in the movie. "All of it. The dark side. A Jedi. They're real."
It's true. All of it.
And it's true in your life, too. All of it. There's a dark side, a hero and a decision you must make.
Right now, even as you read this, there is a very real battle for your soul. Satan, chief of the dark side, tempts and haunts. He dispatches demons, his own version of Stormtroopers, to carry out his "steal, kill and destroy" mission outlined in the Bible (John 10:10). Even if he can't get you to pledge to evil, he doesn't want you spending time in the light where you can threaten his fading empire.
But good isn't in a galaxy far, far away. It's right here. God is the ultimate good, and He extends His loving hand in the midst of the chaos, offering an eternity with Him in heaven. And instead of a fleet of minions, God dispatched the greatest victor—Jesus Christ. He is the hero in the story.
He can also be the hero in your life story if you let Him. May the true Force be within you today.
Step 1 – God loves you and has a plan for you!
The Bible says, "God so loved the world that He gave His one and only Son, [Jesus Christ], that whoever believes in Him shall not perish, but have eternal life" (John 3:16)
.
Jesus said, "I came that they may have life and have it abundantly"—a complete life full of purpose (John 10:10)
.
But here's the problem:
Step 2 – People are sinful and separated from God.
We have all done, thought or said bad things, which the Bible calls "sin." The Bible says, "All have sinned and fall short of the glory of God" (Romans 3:23). The result of sin is death, spiritual separation from God (Romans 6:23). The good news?
Step 3 – God sent His Son to die for your sins!
Jesus died in our place so we could have a relationship with God and be with Him forever. "God demonstrates His own love toward us, in that while we were yet sinners, Christ died for us" (Romans 5:8). But it didn't end with His death on the cross. He rose again and still lives! "Christ died for our sins. … He was buried. … He was raised on the third day, according to the Scriptures" (1 Corinthians 15:3-4). Jesus is the only way to God. Jesus said, "I am the way, and the truth, and the life; no one comes to the Father, but through Me" (John 14:6).
Step 4 – Would you like to receive God's forgiveness?
We can't earn salvation; we are saved by God's grace when we have faith in His Son, Jesus Christ. All you have to do is believe you are a sinner, that Christ died for your sins, and ask His forgiveness. Then turn from your sins—that's called repentance. Jesus Christ knows you and loves you. What matters to Him is the attitude of your heart, your honesty. We suggest praying the following prayer to accept Christ as your Savior:
"Dear God, I know I'm a sinner, and I ask for your forgiveness. I believe Jesus Christ is Your Son. I believe that He died for my sin and that you raised Him to life. I want to trust Him as my Savior and follow Him as Lord, from this day forward. Guide my life and help me to do your will. I pray this in the name of Jesus. Amen."
Did you pray this prayer?